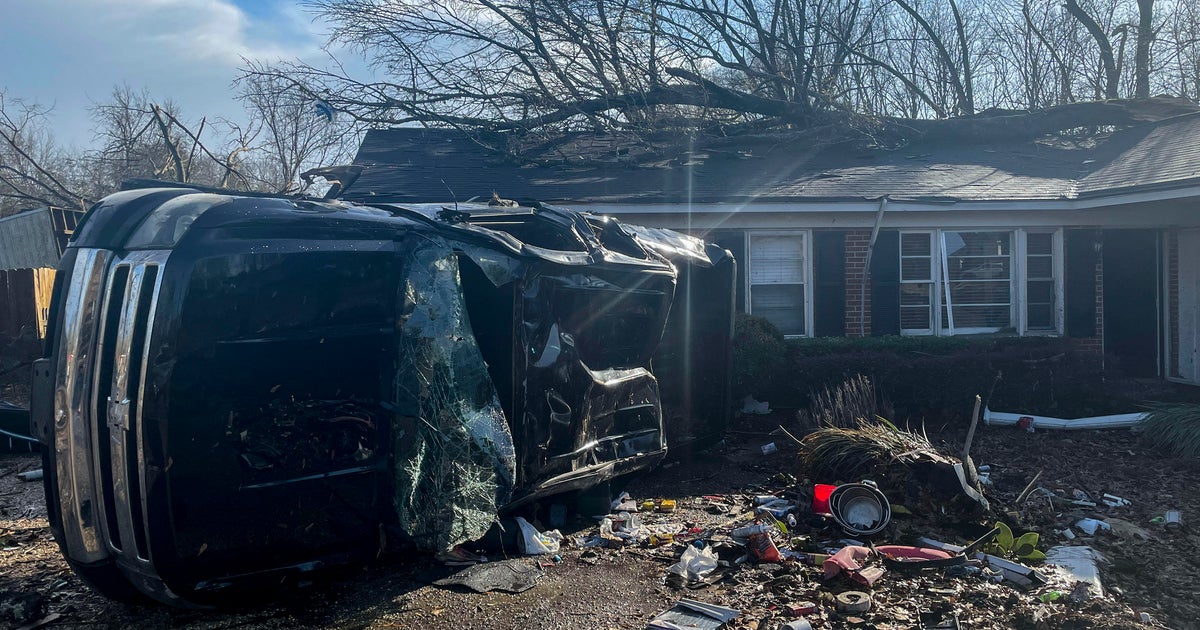 A giant, swirling thunderstorm system rolling through the south on Thursday unleashed a tornado that tore down homes, toppled roofs and uprooted trees in Selma, Alabama, a city of civil rights history.
Brick buildings collapsed, cars lay on their sides, and road poles were strewn around the city center. Clouds of thick, black smoke rose from the blazing fire over the city. It was not immediately clear whether the storm caused the fire.
In Selma, local firefighters responded to a structural fire at a warehouse located on JL Chestnut Avenue on Thursday afternoon.
A "large and extremely dangerous tornado" caused damage as it moved through the historic city, the National Weather Service said. Videos showed the extent of the damage, and cameras captured scenes of debris scattered and buildings damaged by the storm.
There were no immediate reports of fatalities, but the weather service said it had confirmed reports of damage to trees and structures in Selma and reports of damage in other counties. More than 50,000 customers were without power in Alabama, according to PowerOutage.us, which tracks power outages nationwide. The tornado also led to poor cellular service for residents.
"There is damage all over Selma," said former state senator Hank Sanders, he was told.
"The tornado definitely damaged Selma. It actually hit our house, but not head-on. It blew out the windows in the bedroom and living room. It's raining through the kitchen roof," Sanders said.
Selma, a city of about 18,000, is about 50 miles (80 kilometers) west of Alabama's capital, Montgomery, which also experienced severe weather on Thursday.
Selma was the flashpoint of the civil rights movement. Alabama state troopers brutally attacked black voting rights as they marched across the Edmund Pettus Bridge on March 7, 1965. Among those beaten by law enforcement officials was John Lewis, whose skull was fractured. He continued a long and distinguished career as a US Congressman.
Selma Mayor James Perkins told the WSFA that at least one person has been trapped in a building on Broad Street and another person is believed to be missing. There are many downed power lines and this is considered an emergency.
The outer shell of the two-story building was damaged by the storm, photos from The Selma Times-Journal showed. Huge pieces of insulation and metal were wrapped around the trunk of the tree, and fallen branches obscured a sign that read "WELCOME TO HISTORICAL SELM."
Malesha McVay was driving with her family parallel to the tornado. She said she was less than a mile from her home before she suddenly turned the corner.
"We stopped and prayed. We followed it and prayed," she said. "It was 100% divine that it turned right before it hit my house."
She recorded video of a giant tornado turning black as it moved house by house.
"It would hit the house and black smoke would go up," she said. "It was very scary."
The weather service issued a tornado warning for several counties north of the capital city of Montgomery as the same storm system moved eastward. "The situation is life threatening. Take cover immediately," the weather service said of the reported tornado.
Multiple tornado warnings were issued in Alabama, Mississippi and Tennessee on Thursday as the storm system moved through the region.
Alabama Governor Kay Ivey declared a state of emergency on Thursday evening, announcing on Twitter that the declaration would apply to six counties: Autauga, Chambers, Coosa, Dallas, Elmore and Tallapoosa. Selma is located in Dallas County.
In Georgia, more than 100,000 customers were without power just before sunset Thursday, according to PowerOutage.us, as the storm system carved a path through a series of counties south of Atlanta. Georgia Governor Brian Kemp a state of emergency was declared.
The storm hit Griffin, south of Atlanta, and the winds damaged a commercial district, local news outlets reported. The Hobby Lobby store partially lost its roof and at least one car was overturned in the parking lot of a nearby Walmart.
Damage was also reported west of downtown Atlanta in Douglas and Cobb counties, with the Cobb County government releasing a damage report showing a crumbling cinder block wall at a warehouse in the Austell suburb.
The Kentucky National Weather Service in Louisville confirmed that an EF-1 tornado had hit Mercer County and said crews were investigating damage in several other counties. There were reports of downed trees, power outages, and other scattered damage from the storms that swept through the state.