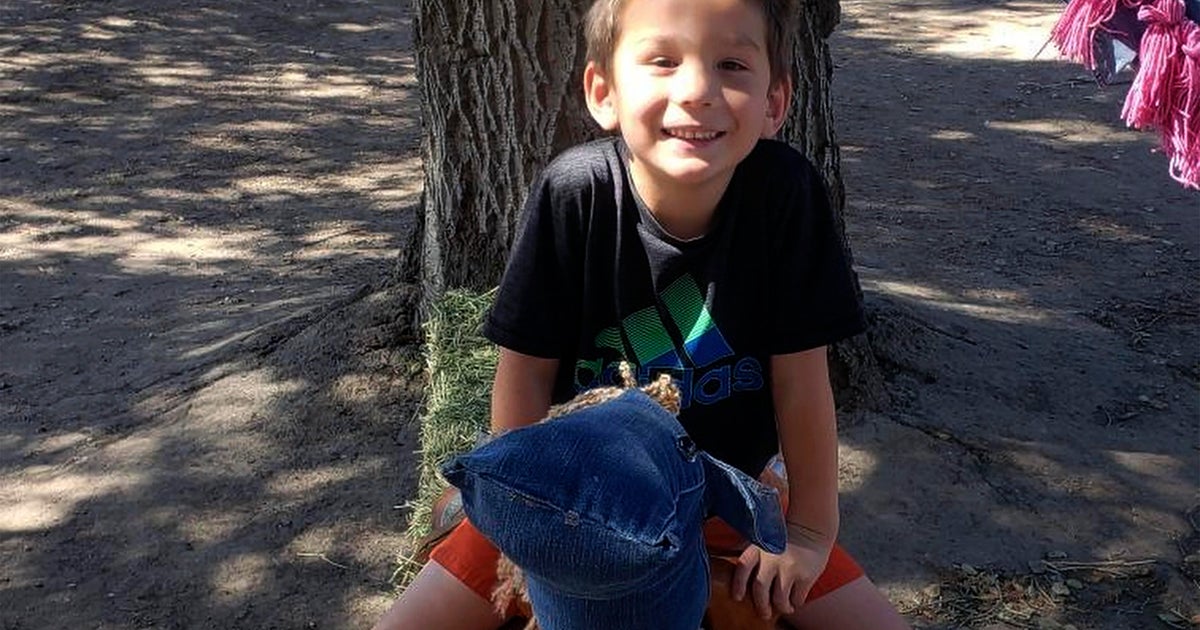 Lindsy Doan didn't think the water flowing over the creek on San Marcos Road was deeper than usual when she tried to navigate it in her SUV while driving her 5-year-old son to school.
But the creek, swollen from the rain Epic winter storms in California, was much taller and flowed harder than she expected. Doan cursed as she lost control of the wheel and the 4,300-pound Chevy Traverse was carried off the road and pinned against a large sycamore tree.
"Mom, it's okay," her son, Kyle, reassured her from the backseat. "Just be calm."
These were the last words the little boy said to his mother before his fingers slipped from hers and he was kidnapped Monday on the central coast of California near Paso Robles.
"Yesterday I got to the point where I think I ran out of tears," Doan told The Associated Press. "I just don't know what to expect anymore. I mean, I tried doing a Google search: How long can a baby go without eating? How long can he be in wet clothes?… We're worried because I don't know if they'll be able to find him."
More than 100 people, including National Guard troops, scuba diving teams, searchers using dogs and drones, and people working their way through shoulder-high piles of driftwood on the banks of San Marcos Creek, searched for Kyle on Wednesday's third day. So far, they've only found one of his blue and gray Nike shoes.
The authorities have he called the search "a top priority."
At least 18 people have been killed by the storms that have been hitting California continuously since late last year. Most of the deaths were caused by falling trees and people driving on flooded roads.
Kyle was reported missing.
With a sister in high school and a brother in college, she is the kid in her family and loves being the center of attention.
"He definitely took advantage of it," said his mother. "She loves to make everyone laugh. He wanted everyone to smile. He loves to please people."
With the holidays over, Kyle was excited to return to kindergarten at Lillian Larsen Elementary School on Monday, his mother said. It was the first day he could play freely after recovering from a broken leg that required three surgeries and he was looking forward to seeing his friends.
Doan, the school's special education teacher, was less enthusiastic, wishing she had a few more days off as she drove down the back road from their home near Paso Robles.
For much of the year, the stream that flows along San Marcos Road resembles many California rivers and streams – a winding strip of sand that flows only during the winter and spring rains. When it flows, it is often easy to cross the shallow waters that cross the road in places.
The Doan family drove the same route Sunday to a truck stop on Highway 101, splashing in the water without incident.
As Doan approached the creek in light rain on Monday, there were no road closures, and she didn't think it would look any different from the day before.
"But as soon as I touched the bottom, my car started drifting and I realized it wasn't the same," she said. "It was completely different."
Scotty Jalbert, head of emergency services in San Luis Obispo County, said river crossings can be confusing and people can get into trouble after successfully crossing them several times. Just 6 inches of water is enough to knock a man off his feet and can even send a car off course if it's moving fast.
"We use the term 'Turn over, don't drown,'" Jalbert said. "In the case of this tragedy, when rescuers arrived on the scene, water was above the vehicle. Of course, such energy will cause a bad situation."
Jalbert said that anyone trapped in a car taking on water should get out if possible and go up to the roof if possible.
Neil Collins and his wife, Danielle, who own an orchard on San Marcos Road, went down to the stream this morning to see if they could get through the flood waters.
When he saw the waves of muddy brown water and the steady current carrying down the solid boughs of oaks and sycamores, he said, "This is going to end badly for someone."
Within 15 minutes, his prediction came true.
After Doan's car stopped under the trees, it started taking on water, so she decided to abandon it. The windows wouldn't go down, but she was able to open the door and snuggle against a tree. With the electricity blocking the back door, she told Kyle to drop his things and get into the front seat.
"I don't care about your backpack," she said. "I just want you to come to me."
She managed to grab his hand, but her grip was weak, and the current swept Kyle away from the other side of the tree.
"I could feel his fingers slipping out of mine," she said.
When the water parted them, she let go of the tree to try to catch her son, who couldn't swim.
"I could see his head floating in the air and he was looking at me because he was walking backwards," she said. "I tried to keep my head above the water, but the currents were pulling me down. After a while, I couldn't see Kyle or what was going on."
Collins missed the sight of Doan entering the stream. But her screams caught his attention.
"I looked at my wife and said, 'That sounds like a man,'" he said. "I heard a second scream and I just ran up the river."
During a typical winter, the river may be waist-high, but he surmised it was up to 12 feet deep and four times as wide as it flowed.
After noticing Lindsy Doan struggling to stay afloat, Collins noticed another body floating in the middle of the stream and thought it looked dead. So he focused on Doan, who was closer to the shore.
He ran alongside her downriver while his wife called 911 and some orchard workers fetched the rope. Eventually, Doan managed to catch some bush branches underwater, and Collins and his crew threw her a lifeline.
Doan became hysterical when she reached shore, Collins said. Only then did he realize that the other figure who passed him was her little boy.
If Doan swam another 100 yards, he's not sure he could help her. The embankment and barbed-wire fence would have prevented him from running past her.
"Time was running out," he said.
Brian Doan, Kyle's dad, is grateful that his wife was saved. He doesn't blame her for taking this route and believes she did the right thing in trying to save their son.
Lindsy Doan can't stop wondering.
"There's something in the back of my head like, 'Well, what if, what if, what if I just turned around and came back the other way? "- she said. "What if, what if I just decided, 'Hey, you know, let's not go down this road today? I don't know if it will ever go away."
When asked what her son might have said to her at the time, Doan took a breath and gathered her thoughts before saying that Kyle always wanted his family to be happy and feel good.
"Maybe he'd say something like…" There's nothing you can do, Mom, you're fine. Everything will be fine".