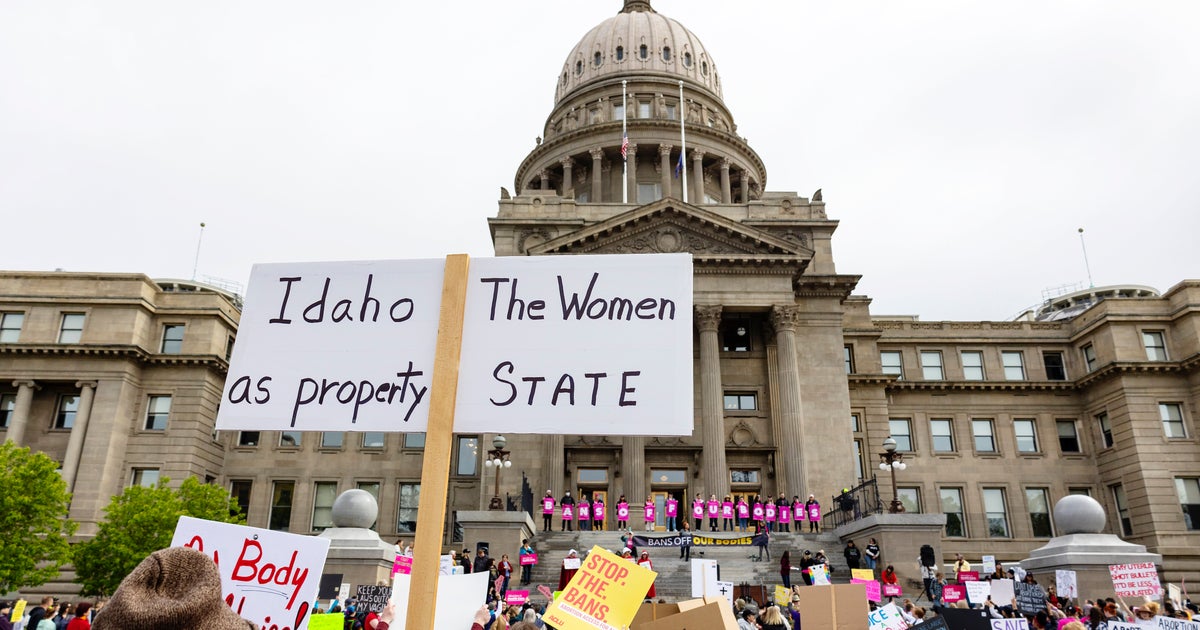 Idaho's constitution does not implicitly recognize abortion as a fundamental right, the state's Supreme Court ruled Thursday, dismissing a series of lawsuits filed by Planned Parenthood.
The ruling was a blow to those fighting against Idaho's laws that came into effect in August, including one criminalizing all abortions after six weeks of pregnancy, except to save a pregnant woman's life or for rape or incest.
"It's a black day for the state of Idaho. But our fight is far from over," Rebecca Gibron, CEO of Planned Parenthood Great Northwest, Hawaii, Indiana, Kentucky, said in a statement.
Planned Parenthood and a GP have filed three lawsuits against the governor and legislature leaders in an attempt to block new abortion bans. One law allows potential family members of the fetus to sue the health care provider who performs the abortion. Another made it an offense for medical personnel to perform abortions after detecting electrical activity. And the third effectively banned all abortions, but allowed doctors to defend themselves in court, proving that the abortion was carried out to save their patient's life.
The Idaho Supreme Court heard the arguments of all the lawsuits in a joint hearing last year. Thursday's ruling affected all three cases.
Planned Parenthood claimed the legislation violated constitutional principles such as equal protection and fair trial, high court judges noted.
However, the majority of judges said in their ruling that the state's Constitution does not provide any fundamental right to abortion.
"Since Idaho became statehood in 1890, this Court has repeatedly and steadfastly interpreted the Idaho Constitution based on the plain and ordinary meaning of its text," said the judges.
Should they take the leap and conclude that the document indirectly protects abortion rights, the Constitution "will be effectively replaced by the vote of the elected few sitting on this Court," the judges maintained.
Idaho Supreme Court Justices Colleen Zahn and John Stegner disagreed with the majority opinion. Zahn said, "The Idaho Constitution did not freeze the rights that existed in 1890."
"We should look at Idaho's history and traditions to determine the intentions of the creators, but not be locked into examining these laws only according to the circumstances in which they existed around 1890," Zahn wrote.
In his dissent, Stegner noted the impact of pregnancy on women, saying that majority opinion "deprives women in Idaho of their most basic rights."
"Idaho women have a fundamental right to an abortion because pregnancy – and whether a pregnancy can be terminated – has a profound effect on pregnant women's inalienable right to liberty, as well as their right to life and safety," Stegner wrote.
Idaho's bans have added pressure on abortion facilities in neighboring Oregon, where abortion rights are protected.
In South Carolina, the state Supreme Court on Thursday struck down a ban on heart-detecting abortions, ruling that the restriction violated the state's constitutional right to privacy.
A South Carolina court said the state has the right to restrict a woman's right to privacy that protects a woman from state interference in her decision, but any restriction must allow the woman enough time to acknowledge that she is pregnant and "take reasonable steps to terminate the pregnancy." ". ".
The Idaho Supreme Court said his case was narrowly focused.
"All we are deciding today is that the Idaho Constitution as it stands does not include the fundamental right to abortion," wrote Justice Robyn Brody in the majority opinion.
Brody said Idaho's new anti-abortion laws are "rationally aligned with the government's legitimate interest in protecting prenatal fetal life at all stages of development."
Idaho's laws came after the U.S. Supreme Court last year overturned Roe v. Wade, which guaranteed the right to abortion under the U.S. Constitution.
A narrow section of one of Idaho's abortion bans was temporarily blocked by a federal judge in a separate case.
Opponents of abortion applauded the Idaho court's decision.
"Today is a big day for Idaho's precious unborn children," said Blaine Conzatti, president of the Idaho Family Policy Center, a conservative Christian research and education organization.
Planned Parenthood said the court's ruling will have a particular impact on those who already face the greatest barriers to healthcare due to a legacy of racism and discrimination, including people of color, people on low incomes, immigrants and others.