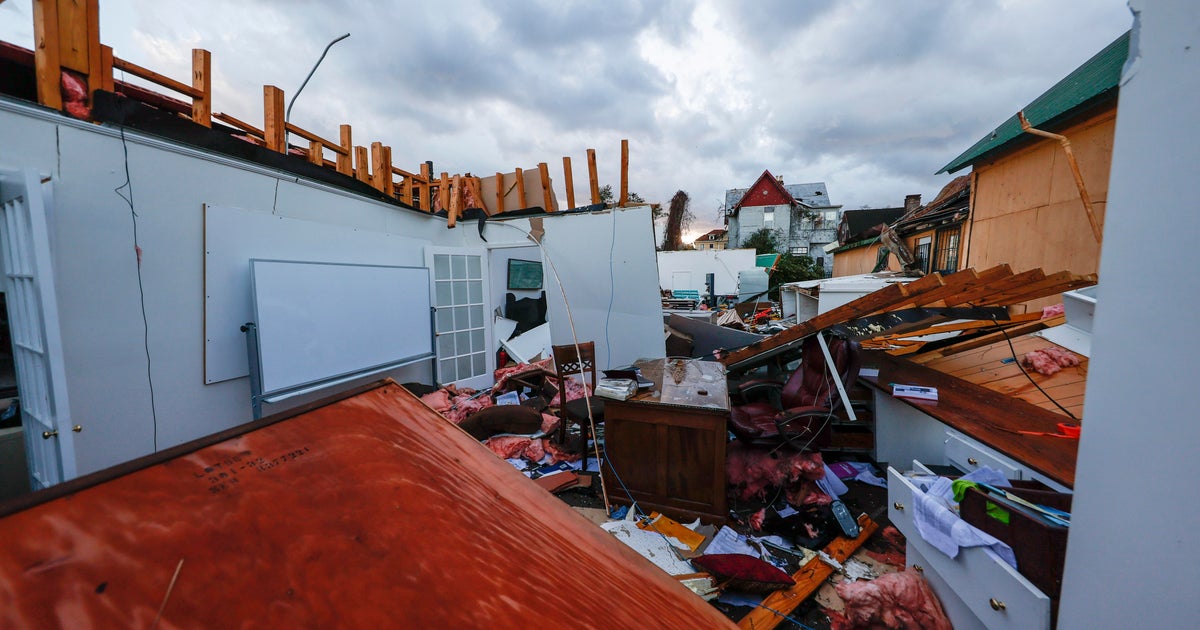 A giant, swirling storm system billowing through the south killed at least six people Thursday in central Alabama and a seventh person in Georgia, authorities said, and spawned a tornado that destroyed homes, toppled roofs and uprooted trees in Selma.
David Hill, the sheriff of Autauga County, Alabama, confirmed to CBS News that at least six people were killed in the county.
Ernie Baggett, director of an emergency management agency in Autauga County, Alabama, told CBS News that about 40 homes were damaged or destroyed. Baggett said the tornado traveled an approximately 20-mile path in the communities of Old Kingston and Marbury.
Baggett said search and rescue operations were suspended around 8pm local time but would resume on Friday.
Autauga County, Alabama is 41 miles northeast of Selma, which was also hit hard by the tornado.
Alabama Governor Kay Ivey declared a state of emergency in six counties: Autauga, Chambers, Coosa, Dallas, Elmore and Tallapoosa, where Selma is located.
"I am saddened to learn that six Alabama residents have died in the storms that devastated our state," said Alabama Governor Kay Ivey. tweeted Thursday night. "My prayers are with their loved ones and communities."
In Georgia, a passenger was killed when a tree fell on a vehicle in Jackson during a storm, Butts County coroner Lacey Prue said. In the same county southeast of Atlanta, a storm knocked a freight train off its tracks, officials said.
Nationwide, there were 33 separate reports of tornadoes on Thursday from the National Weather Service as of Thursday night, with a handful of tornado warnings still in effect in Georgia, South Carolina and North Carolina. However, the reports have yet to be confirmed, and some could later be classified as wind damage after assessments were made in the coming days.
In Selma, brick buildings collapsed, cars were parked on the sides, and road poles were scattered in the center of the city. Clouds of thick, black smoke rose from the blazing fire over the city. It was not immediately clear whether the storm caused the fire.
A few blocks past the famous Edmund Pettus Bridge, an enduring symbol of the suffrage movement, the storm collapsed buildings and blocked roads with trees.
Selma Mayor James Perkins said no fatalities have been reported at this time, but emergency services are still assessing the damage.
"People have been injured, but no fatalities," Perkins said. "We have many downed power lines. There is great danger in the streets."
The mayor added that a curfew was imposed in the city.
A "large and extremely dangerous tornado" caused damage as it moved through the historic city, the National Weather Service said. The agency said reports of damage to trees and structures in Selma and reports of damage in other counties had been confirmed.
Selma was the flashpoint of the civil rights movement. Alabama state troopers brutally attacked black voting rights as they marched across the Edmund Pettus Bridge on March 7, 1965. Among those beaten by law enforcement officials was John Lewis, whose skull was fractured. He continued a long and distinguished career as a US Congressman.
Selma Mayor James Perkins told the WSFA that at least one person has been trapped in a building on Broad Street and another person is believed to be missing. There are many downed power lines and this is considered an emergency.
The outer shell of the two-story building was damaged by the storm, photos from The Selma Times-Journal showed. Huge pieces of insulation and metal were wrapped around the trunk of the tree, and fallen branches obscured a sign that read "WELCOME TO HISTORICAL SELM."
Malesha McVay and her family were driving parallel to the tornado. She said she was less than a mile from her home before she suddenly turned the corner.
"We stopped and prayed. We followed it and prayed," she said. "It was 100% divine that it turned right before it hit my house."
She recorded video of a giant tornado turning black as it moved house by house.
"It would hit the house and black smoke would go up," she said. "It was very scary."
The weather service issued a tornado warning for several counties north of the capital city of Montgomery as the same storm system moved eastward. "The situation is life threatening. Take cover immediately," the weather service said of the reported tornado.
Multiple tornado warnings were issued in Alabama, Mississippi and Tennessee on Thursday as the storm system moved through the region.
Officials in Griffin, Georgia, south of Atlanta, told local news outlets that many people were trapped in an apartment complex after trees fell on it. Firefighters also freed Griffin's man, who was pinned for hours under a tree that fell on his home. The high school was destroyed and students were detained at four middle schools to be picked up by their parents after officials said it was dangerous to drive the buses. The city of Griffin imposed a curfew from 10 p.m. Thursday to 6 a.m. Friday.
School systems in at least six Georgia counties on the southern edge of metro Atlanta canceled classes on Friday. These systems register a total of 90,000 students. Georgia Governor Brian Kemp as well a state of emergency was declared.
According to PowerOutage.us, more than 49,000 customers in Georgia were without power on Thursday night.
Damage was reported west of downtown Atlanta in Douglas and Cobb counties, and the Cobb County government released a damage report showing a crumbling cinder block wall at a warehouse in the Austell suburb.
The Kentucky National Weather Service in Louisville confirmed that an EF-1 tornado had hit Mercer County and said crews were investigating damage in several other counties. There were reports of downed trees, power outages, and other scattered damage from the storms that swept through the state.