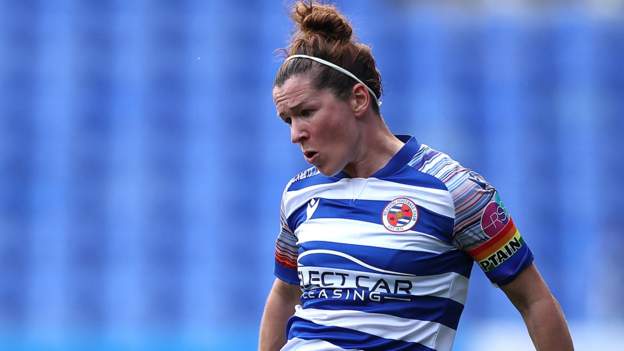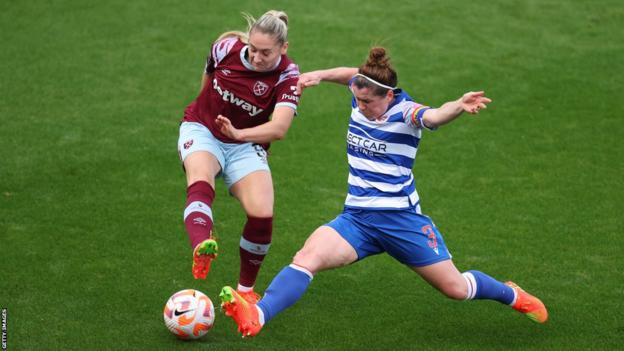 Reading captain Emma Mukandi has criticized the Football Association's maternity policy, claiming it must have been drafted by a man.
Mukandi gave birth in November 2021 before returning to Scotland in August 2022 and to Reading when the WSL season started in September.
The current FA maternity policy gives new mothers 14 weeks of full pay.
"If I had a baby now, I don't think I could go back 14 weeks postpartum," Mukandi, 30, said.
An FA spokesman said: "Clubs that directly employ players are left to decide whether they choose to go beyond the provisions set out in our policy."
Reading manager Kelly Chambers said: "We have supported and honored her maternity package all these eight and a half months."
Mukadi said Off The Ball COYGIG podcast: "The rule is you only get full pay for 14 weeks and then you have to go back to work.
"Remember our body is our work, who invented it anyway? Certainly not someone who played soccer and had a baby. Is it a man? It had to be a man. The man was definitely involved."
Mukadi said FA policy – introduced before the start of this season and which all clubs in women's football's top two leagues must adhere to – means new mothers in poorer clubs receive less support.
"If you have a lot of money at Arsenal, Chelsea and Manchester City, you have a lot of great facilities, having a child there is not a problem at all," she said.
"But the lower you go down the leagues and then the money and facilities come in, it's easier for clubs and general managers to say 'No, that's not happening.'
"It's an excuse"
Mukandi said Reading, who plays in the WSL, did not allow her to bring her daughter Innes to the training ground on days when she is unable to arrange childcare.
She said they had informed her via a general email that children were not allowed due to "club policy". He is working with the Professional Footballers' Association to find a solution.
Mukandi said: "It's a bit of an excuse because they know that men don't have to take in their children because they earn £10,000 a week, so their wife can just stay home and look after the children, or they can afford a nanny.
"Since it's probably never happened at a club like Reading, it's probably easier to say, 'We just have a policy of no children and that's the answer.'
"I was a bit more disappointed because they never even came and spoke to me. Only this email was sent – a generic email – but I felt it was directed at me.
"As for me, why didn't we talk and let me explain why she's here and see if there's anything they could do to actually help instead of just closing the door?"
Mukandi revealed that she faked the injury in her eighth week of pregnancy and did not inform Reading of the pregnancy until after her 12-week scan in case it "didn't go well".
"It was quite difficult," she said. "I had to tell the coach at the time because it probably wasn't right that I kept him for so long anyway.
"At the time, there was nothing in the contracts that said if you were pregnant, any support was put in place."
"We supported Emma as best we could"
Chambers said Reading had effectively given Mukandi a maternity package before the FA rules came into effect.
She told Sky Sports: "We supported Emma in the best possible way. We supported from the contractual side.
"You get full pay for 14 weeks. But when it came to 14 weeks, Emma wasn't ready to return to football – physically, mentally, she wasn't ready to let Innes be the babysitter. She was a new mom who wasn't ready to do it.
"So we supported her in the sense that when she gave birth, she should have come back in January-February, but she didn't really come back until pre-season this season.
"It's hard from this side to sit here and take criticism when I believe we really supported Emma in those moments."