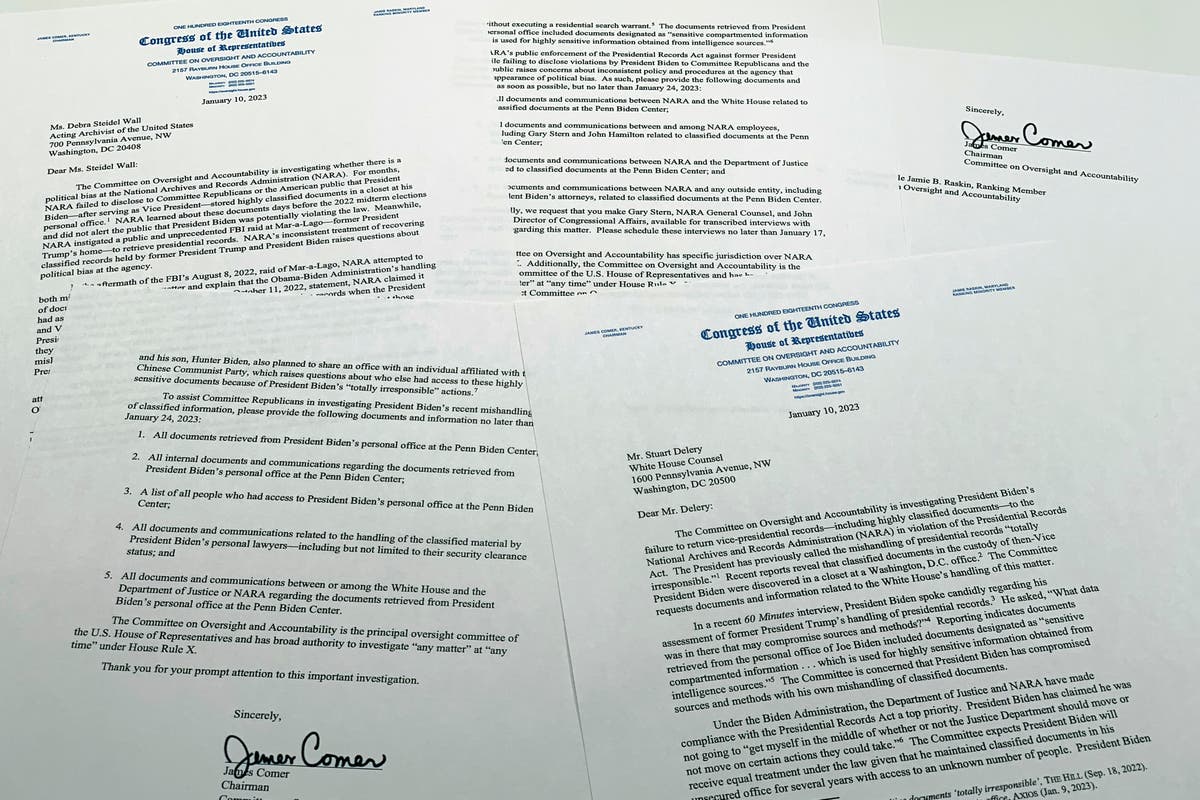 Hillary Clinton's presidential dreams were undermined by her use of a private email server that contained classified information.
Donald Trump has risked criminal charges by refusing to return top-secret documents to the government after leaving the White House.
And now lost files with classified markings could cause a political headache for President Joe Biden.
These three situations are far from equivalent. But taken together, they represent a remarkable episode in which document management has been a recurring source of controversy at the highest levels of American politics.
For some, it is a warning against clumsiness or hubris in handling a professional secret. For others, it's a reminder that the federal government has built an unwieldy – and perhaps unmanageable – system to store and protect classified information.
"Mistakes happen and it's so easy to pick up a pile of papers from your desk when you leave the office and you don't realize there's a secret document among those files," said Mark Zaid, a lawyer working on national security issues. "You just haven't heard of it, for whatever reason."
Now Americans hear about it all the time. Political talk shows have become clogged with talk about which documents are hidden in which box, in which cupboard. Voters learn intelligence jargon like TS/SCI, HUMINT, and damage assessments.
Clinton's mail server was the dominant thread of her presidential campaign, and the Trump investigation shattered his hopes of returning to the White House. The Republicans who recently took control of the House are now ready to investigate Biden's own document practices as well, especially after a second batch of classified materials was found.
"Americans are very aware of the issues around classified documents, in part because we've been talking about them for almost eight years," said Alex Conant, a Republican political consultant.
That's when a Republican House Committee investigating the attack on the U.S. Consulate in Benghazi, Libya, discovered that Clinton had been using a private email account while secretary of state. The revelation led to a federal investigation that resulted in no charges, but it was found that 110 of the 30,000 emails given to the government contained classified information.
Trump, who had beaten Clinton for her email handling, won the election and quickly demonstrated his carelessness about secrets. He memorably discussed confidential intelligence with the Russian ambassador to the United States, which raised concerns that he might have compromised a source who helped thwart terrorist plots.
After contesting the results of his electoral defeat, Trump left office haphazardly and took boxes of government documents with him to Mar-a-Lago, his Florida resort. Some of them were given to the National Archives, which is responsible for presidential files, but refused to release others.
Eventually, the Department of Justice, concerned that national security secrets were at stake, obtained a search warrant and found more top-secret documents at the facility.
A special defense attorney was appointed to determine whether criminal charges should be brought against the case or whether a separate investigation should be conducted into Trump's attempts to stay in power on January 6, 2021, when a mob of his supporters stormed the United States Capitol.
Larry Pfeiffer, a former intelligence official, said that the situation with Trump's documents is completely different from the one he faced while working in the government.
He said that during Pfeiffer's time as chief of staff of the CIA, secret files appeared in the wrong places in presidential libraries several times.
"It just happens," said Pfeiffer, now director of the John Paul II Center for Intelligence, Policy and International Security. Michael V. Hayden at George Mason University. "Mistakes are made and things are found."
He said that seems more likely to be the case with documents with secret markings that were found in the office used by Biden at the Penn Biden Center for Diplomacy and Global Engagement after his term as vice president ended.
Biden's personal lawyers discovered the documents and contacted the White House law firm, and the National Archives picked up the files the next day.
The situation looks like an "average, common error" that "is treated in textbook fashion," Pfeiffer said.
However, he said it would be wise for the government to review its document management practices during transitions between administrations. It's been six years since Biden left the vice president's office, which means classified files have long been in the wrong place.
"It's not a good thing, no matter how one plays it," he said.
In addition to the files found at the Penn Biden Center, more classified material has been identified elsewhere, a person familiar with the matter said Wednesday. It is not known when and where the documents were found. The person was not authorized to discuss the matter publicly and asked to remain anonymous.
Attorney General Merrick Garland asked a U.S. lawyer to reconsider the case after the initial discovery, and House Republicans said they would also investigate.
Rep. James Comer, R-Ky., the new chairman of the House Oversight and Accountability Committee, sent a letter to the White House on Tuesday announcing that his panel would be investigating "Biden's failure to return the vice president's file — including highly classified documents." .
"The committee is concerned that President Biden has compromised sources and methods through his mishandling of classified documents," Comer wrote.
Biden said this week he was surprised to learn of the documents that were discovered in November but whose existence was only made public this week. He said he did not know what information they contained and said his team "did what they should have done" when they were found.
Miller, a former Justice Department spokesman who worked for Biden's National Security Council last year, said it was unlikely such an episode would have made the news had it not been for Trump's concurrent investigation.
"The Biden Penn Center would return these things, they would go to the Archives and that would be the end of it," he said.
Miller said the situation was reminiscent of "the government is classifying too many documents."
"There is no good process for declassifying them," he said. "And when you create this structure, you unnecessarily expand the universe of secret documents that can be inadvertently misused."
This is not a new problem, and it is a concern shared even by Biden's top intelligence adviser, Avril Haines. In a letter to senators last year, Haines said there were "deficiencies in the current classification system", calling it "a fundamentally important issue that we need to address."
However, Miller said, "no one has come up with a good answer to this problem."