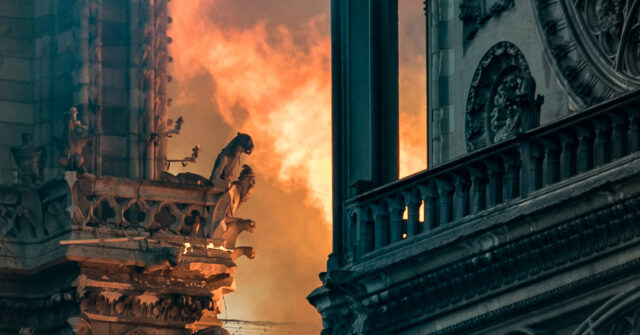 According to a former culture minister, the French government wanted a modernist redesign of Notre-Dame, with President Macron's wife erecting a new spire resembling male genitalia.
Roselyne Bachelot-Narquin, who served as Minister of Culture under Prime Minister Jean Castex and by extension President Emmanuel Macron from 2020 to 2022, claims in her autobiography that the government wanted to make some sort of modernist statement about rebuilding the fire-destroyed 800- summer cathedral, Times reports.
"When I returned to the ministry, the office was under stress: the Elysée Palace dreamed of an 'architectural gesture' and accused me of doing only what pleases me," she wrote, referring to the official residence of the French president.
Bachelot, who apparently insisted on a reconstruction of the Catholic cathedral as faithful as possible, said she had "no regrets about this insubordination" after Brigitte Macron, the French president's controversial wife, showed her the proposed design "topped with something like an upright phallus with a base surrounded by gold bullets" at the meeting.
The architects are coming: Modernists want a glass roof, steel spire or minaret for Notre Dame https://t.co/Sgy6dg3prZ

— Breitbart London (@BreitbartLondon) April 20, 2019
As much of the global architectural establishment actively opposed building in the traditional style, denouncing it as "pastiche" and insisting that all new buildings look "contemporary", concerted efforts were made to try to impose Notre-Dame's modernist aesthetic as a restoration of its damaged section the external and damaged spire was discussed after the 2019 fire.
Architects have proposed stripping the cathedral of features such as a glass roof, steel spire and even a minaret – a tribute to the country's Muslim Algerians – after the fire.
Supposedly conservative Telegraph a UK newspaper published an article saying that "it would be a travesty to rebuild the badly damaged Notre Dame as a facsimile of the original" instead of following "bold and uncompromising modernity", while a Harvard professor in America went so far as to say that the destruction of a Christian a building "so overloaded with meaning … seems like an act of liberation."
The French government initially encouraged such fantasies, with Macron's prime minister saying they would "ask the question of whether we should recreate the spire at all as it was conceived [or] as is often the case with heritage evolution, we should equip Notre-Dame with a new spire" – but public pressure and perhaps internal lobbying by Bachelot eventually made them commit to a faithful restoration of the cathedral's exterior.
The inside of the building may not be safe, however, as plans have leaked to re-imagine the Disneyland-style cathedral, emphasizing diversity and climate change, sparking controversy in late 2021.
Notre Dame Cathedral Will Become Woke Disneyland, Renovation Plans Revealed https://t.co/JhBx0wGvJc

— Breitbart London (@BreitbartLondon) November 27, 2021
Follow Jack Montgomery on Twitter:

@JackBM

ontgomery
Follow Breitbart London on Facebook:

Breitbart London