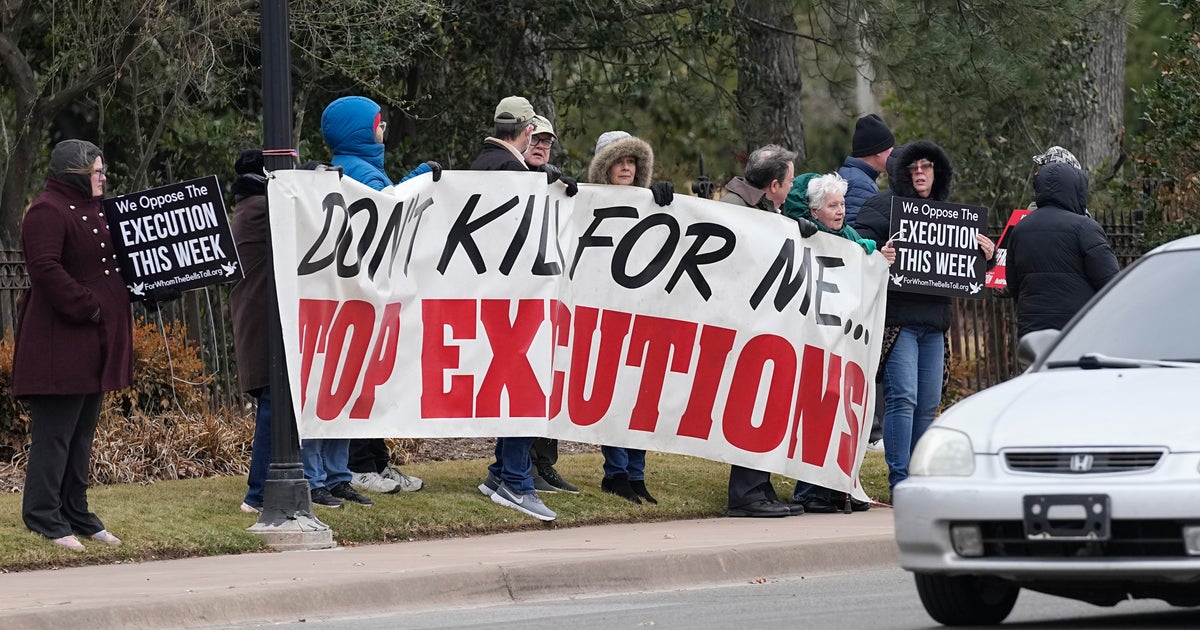 Oklahoma on Thursday executed a man who was convicted of killing an elderly couple and committing other crimes 20 years ago before authorities caught up with him in Texas after a manhunt. Scott James Eizember, 62, received a lethal injection at Oklahoma State Penitentiary in McAlester and was pronounced dead at 10:15 a.m. local time.
"I'm calm," Eizember said, strapped to a stretcher with an intravenous line in his left arm. "My conscience is completely clear. I love my children".
As the deadly drugs began to flow, Eizember, who had a close-cropped beard, spoke to his spiritual adviser, Reverend Jeffrey Hood, who was with him in the execution chamber. At one point, he raised his head and mouthed the words "I love you" to his daughter and the attorneys who were among the 17 people sitting in the witness room.
Eizember's breathing became labored and he was pronounced unconscious at 10:07. He appeared to have stopped breathing at 10:10. He was pronounced dead at 10:15.
Eizember's attorneys have not denied that he killed 76-year-old AJ Cantrell and his wife, Patsy Cantrell, on October 18, 2003. had value.
The The board voted 3-2 reject the pardon order.
"Every day he spent in prison, he felt remorse. There is no reason to kill him next month other than revenge," lawyer Mark Henricksen told the board.
After the execution, several members of Cantrell spoke of the pain the family endured and expressed concern about the length of time that had elapsed since Eizember's execution.
"After living this nightmare, I have to say that 20 years is too long for justice to be done," said Johnny Melton, the nephew of the murdered couple, in a statement read on behalf of the family. "We want to get it right and we absolutely want to ensure that everyone's rights are protected, but the process is way too slow."
Melton also stressed the importance of addressing domestic violence and improving mental health treatment in Oklahoma and across the country.
"I know it's going to be a controversial statement, but I believe it's a fact. It's the perpetrator who needs help. They need it when they're young," Melton said. "Once the victim needs help, it's too late."
Prosecutors say Eizember broke into the Cantrell home in Depew, Oklahoma, after seeing them leave so he could ambush his ex-girlfriend, Kathryn Smith, who lived across the street. When the couple returned home unexpectedly, prosecutors say Eizember shot Patsy Cantrell with a shotgun he found in the house and then bludgeoned AJ Cantrell to death with the gun.
Eizember was convicted of first-degree murder and sentenced to death for killing AJ Cantrell, and convicted of second-degree murder and sentenced to 150 years in prison for killing Patsy Cantrell. Eizember's attorneys argued that Patsy Cantrell was shot and killed while he and AJ Cantrell fought over a shotgun.
After killing the couple, Eizember crossed the street and entered Smith's home, shot his son in the back and attacked his mother, prosecutors say. Both survived, and authorities say Eizember eventually drove out of town in a stolen vehicle.
Police believe Eizember had been hiding in wooded areas around the towns of Depew and Bristow for more than 30 days while law enforcement launched a large manhunt to track him down.
"He wasn't afraid to kill again," Deputy Attorney General Tessa Henry told the Forgiveness Committee.
Eizember eventually traveled to Arkansas in a stolen car and kidnapped the doctor and his wife at gunpoint, prosecutors said. After driving to Texas with the couple, he was finally captured near the town of Lufkin after a doctor pulled a handgun hidden in the couple's van and shot Eizember four times.
A federal jury in Arkansas convicted Eizember in December 2005 of two counts of kidnapping and one each of car theft and use of a firearm in a violent crime. In this case, he was sentenced to 25 years in federal prison.
Eizember filed a last-minute lawsuit seeking to have his spiritual adviser be with him in the death chamber during his execution after the Department of Corrections dismissed the minister due to Hood's history of anti-capital punishment activism, including arrests. The DOC reversed direction of that decision on Wednesday, citing Cantrell's family's concerns that the decision could lead to Thursday's execution being cancelled.
The U.S. Supreme Court ruled last year that states must heed the wishes of death row inmates who want their pastor to pray aloud and even touch them during executions.
Oklahoma uses a three-drug lethal injection method, starting with the sedative midazolam, knocking the person unconscious, then the paralyzing vecuronium bromide, and finally potassium chloride, which stops the heart.
Eizember's execution was the eighth execution in Oklahoma since executions resumed in 2021.
In October, a prisoner was executed in Oklahoma Benjamin Cole despite claims by his attorneys that he was seriously mentally ill.
According to the Death Penalty Information Center, in Oklahoma, 42 inmates are on death row and four have received pardons.