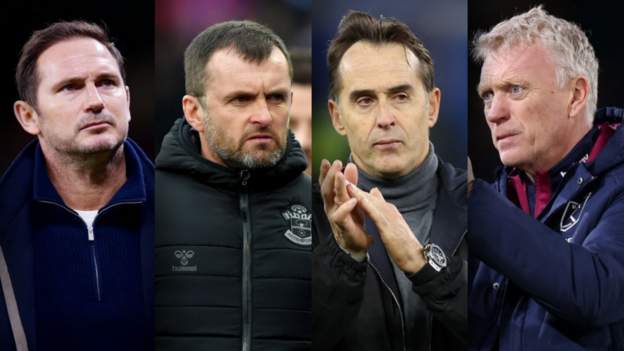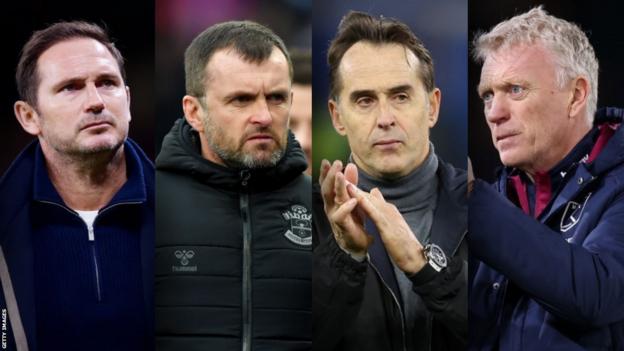 Could this be the deciding weekend in the Premier League relegation battle?
Yes, yes, we know – the top-flight season is not halfway through yet, and there are still MANY football matches ahead of us.
But with several clubs at the bottom facing each other and one or two managers under pressure, will this be a time some teams will see as a turning point in their campaign?
What are the key games?
First, let's recall what exactly things look like at the bottom of the table.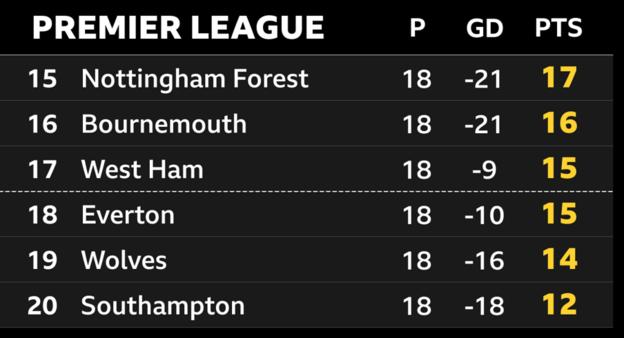 Southampton are in danger of losing as they sit bottom of the table and three points from safety, but above them just three points separate Wolves in 19th and Leicester in 13th.
Six of the bottom eight will face each other on Saturday:
Everton v Southampton
Nottingham Forest v Leicester City
Wolves vs West Ham
Meanwhile, Bournemouth, who are currently one point above the relegation zone, travel to Brentford on Saturday, while Leeds – placed 14th and three points from danger – play Aston Villa on Friday.
Who is in shape and who is in crisis?
Nottingham Forest appeared to be struggling to return to the top flight, but a run of two wins, two draws and just one defeat in their last five games has moved them from bottom and – for now – out of trouble.
Steve Cooper's side took a decisive away win at Southampton last week, which looks alarmingly weak in the league under new manager Nathan Jones.
The Saints have not had this new manager bounce back from Jones as they have lost all four Premier League matches since he was appointed on November 10.
However, on Wednesday they achieved a shock 2-0 victory over Manchester City in the quarter-finals of the EFL Cup, which could provide a much-needed confidence boost.
West Ham, Everton and Bournemouth are also battling for form, with only the Cherries of the three managing to win in their last six matches.
Which managers are under pressure?
It's hard to suggest that any manager from the bottom side of the table will feel particularly comfortable in his job.
But Jones is not long in his role at Southampton, so a change seems unlikely anytime soon – especially after the win against City.
However, Everton boss Frank Lampard and West Ham manager David Moyes will certainly feel the pressure.
This is where the games this weekend seem so important. Lampard and Everton's home win over Southampton would have put them out of the top three, but defeat would have been unthinkable.
"Neither Everton nor manager Frank Lampard can afford to lose their home game against Southampton on Saturday" says BBC Sport chief journalist Phil McNulty.
"It's hard to see Lampard surviving defeat, but he's not the main focus of fans who are increasingly furious at the club's ongoing problems. Everton fan groups are targeting owner Farhad Moshiri, chairman Bill Kenwright and chief executive Denise Barrett-Baxendale. "
Former Premier League striker Chris Sutton believes Jones can turn things around at Southampton, provided there are more performances like the one against Manchester City.
"It needs time, it has taken over an absolute mess," he told BBC Radio 5 Live.
The negative attitude took over after the defeat to Forest when they missed a shot on target. After winning over the weekend [over Crystal Palace in the FA Cup] there was still some skepticism.
"If they can play the way they played [against Manchester City] with this intensity they will stay on their feet and that is a big if.
A sit-down protest is planned after Saturday's game at Goodison Park, with a large-scale display of banners expressing Everton's displeasure.
Meanwhile, Moyes and West Ham face a tougher task with Wolves, who are showing signs of improvement under new boss Julen Lopetegui.
Since the former Sevilla boss's appointment on November 5, Wolves have taken four points from four games, with defeats to Arsenal and Manchester United coming as no shock.
A Hammers win would be vital as it would keep them three points out of trouble and give them confidence before they face Moyes' former club Everton on January 21.
What are the managers saying?
With the bottom four teams facing each other this weekend, here's what their managers had to say recently:
Southampton boss Jones: "The shows have always been there, building and growing. It won't happen overnight – I'm not a miracle worker. It's going to take some time."
Everton manager Lampard: "I am very aware of what I came to this job for. I want to be successful at this club. Any challenges that come up, I'll take them up and really enjoy them."
West Ham boss Moyes: "I think the West Ham fans have been incredibly supportive. They've seen what's been going on here in the last three years and would probably say the opposite of the club's changing manager.
"They desperately want us to do well and they desperately want the manager to do well. We have to pull ourselves together, play better, play better and find a way to win games, which is the key."
Lopetegui Wolves Boss: "We are improving, we believe in ourselves more and we are ready for a long and hard race.
"We have to be ready to arrive at the last minute, believe in ourselves, knowing that we will have many difficulties, but step by step we will improve."
Who do you think will stay?
It's obviously the fans who know their team better than anyone else, so who do you think will be knocked out at the end of the season and who will get out of trouble?
Take a guess below how you think the 2022-23 season final table is shaping up.