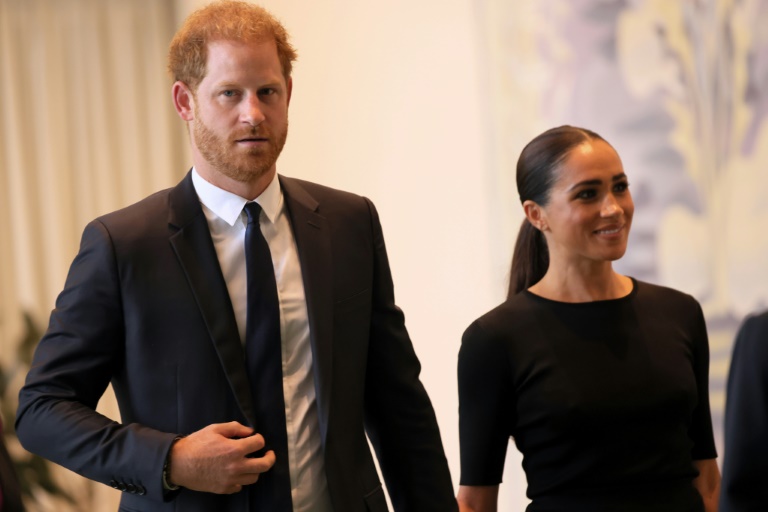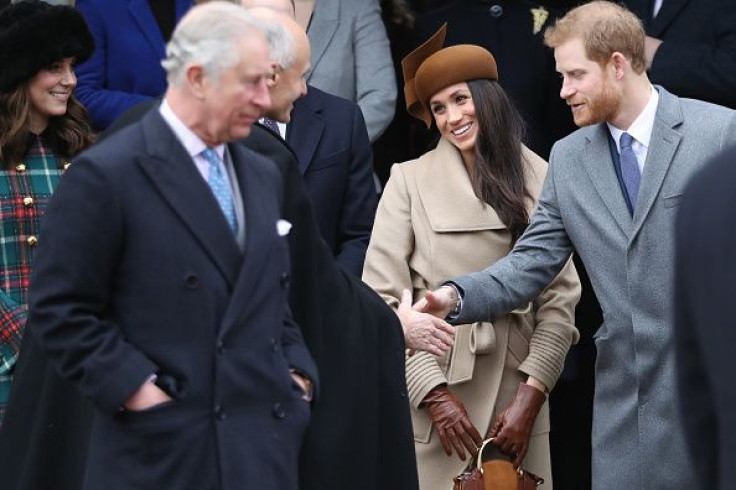 KEY POINTS
Prince Harry said Meghan Markle looked 'beautiful' when she first met his father King Charles
The Duke of Sussex instructed Markle to let her hair down and put on light makeup for the meeting
Reportedly, Markle was caught unprepared when she first met Queen Elizabeth II
Prince Harry has shared details of the first meeting between his father King Charles and his now-wife Meghan Markle in his book.
The Duke of Sussex revealed in his upcoming memoir Spare how he made sure Markle would impress his father when he introduced her to 74-year-old Charles at Clarence House, Us Weekly reports.
"Meg looked beautiful," he wrote, noting that Markle was wearing a "full floral skirt."
The former "Suits" star reportedly wore her trademark brunette hair cascading over her shoulders, as suggested by Prince Harry, because "Patuś likes it when women wear their hair down." Harry added that his grandmother, Queen Elizabeth II, also favored loose "doing" and often commented "[Princess] Kate's beautiful mane."
Prince Harry also advised Markle to wear "a little" makeup as Charles "didn't approve of women wearing a lot".
"Meg and I rehearsed this moment several times. For dad, bow. Say 'your royal highness' or 'sir'," he said of proper greeting protocol.
The Duke of Sussex told Markle to kiss his father if he "bends in" and shake hands if he doesn't. As for King Charles's wife, Queen Consort Camilla, Prince Harry told her no bow was necessary, which reportedly shocked Markle who asked him: "Are you sure?"
"I didn't think it was appropriate," explained Prince Harry in his memoirs.
The Duke and Duchess of Sussex spent a pleasant evening with King Charles and Camilla. Prince Harry shared how Markle spoke about her two fur babies, Bogart and Guy, who were rescued.
However, Markle's first encounter with the late queen was quite different. Reportedly, Prince Harry and the former actress were on their way to lunch at the Royal Lodge when they were informed that his grandmother was visiting the property.
Markle got a quick curtsy lesson from Princess Beatrice and Princess Eugenie's mum, Sarah Ferguson, who lived there before introducing herself to the Queen. Their meeting went well, but Prince Harry believed they were inappropriately dressed.
"I saw Meg regretting her jeans and black sweater," he wrote. "I also regretted my threadbare pants. We didn't plan, I wanted to tell Grandma, but she was busy asking about Meg's visit."
Ahead of its release, excerpts from Prince Harry's book have been released by stores over the past few days, revealing some of its major bombshells.
Prince Harry claimed in his memoirs that Prince William once physically assaulted him during an argument over Markle, and that his older brother and his sister-in-law Kate Middleton allegedly encouraged him to wear a Nazi uniform to a 2005 masquerade ball.
The Duke of Sussex also revealed an "awkward moment" between his wife and Middleton when they made their first public appearance at the Royal Foundation Forum in February 2018. According to him, Markle borrowed Middleton's lip gloss when she forgot hers.
"Kate, surprised, reached into her purse and reluctantly pulled out a small tube," Prince Harry wrote. "Meg squeezed some on her finger and put it on her lips. Kate winced.
"Spare" hits store shelves on Tuesday.