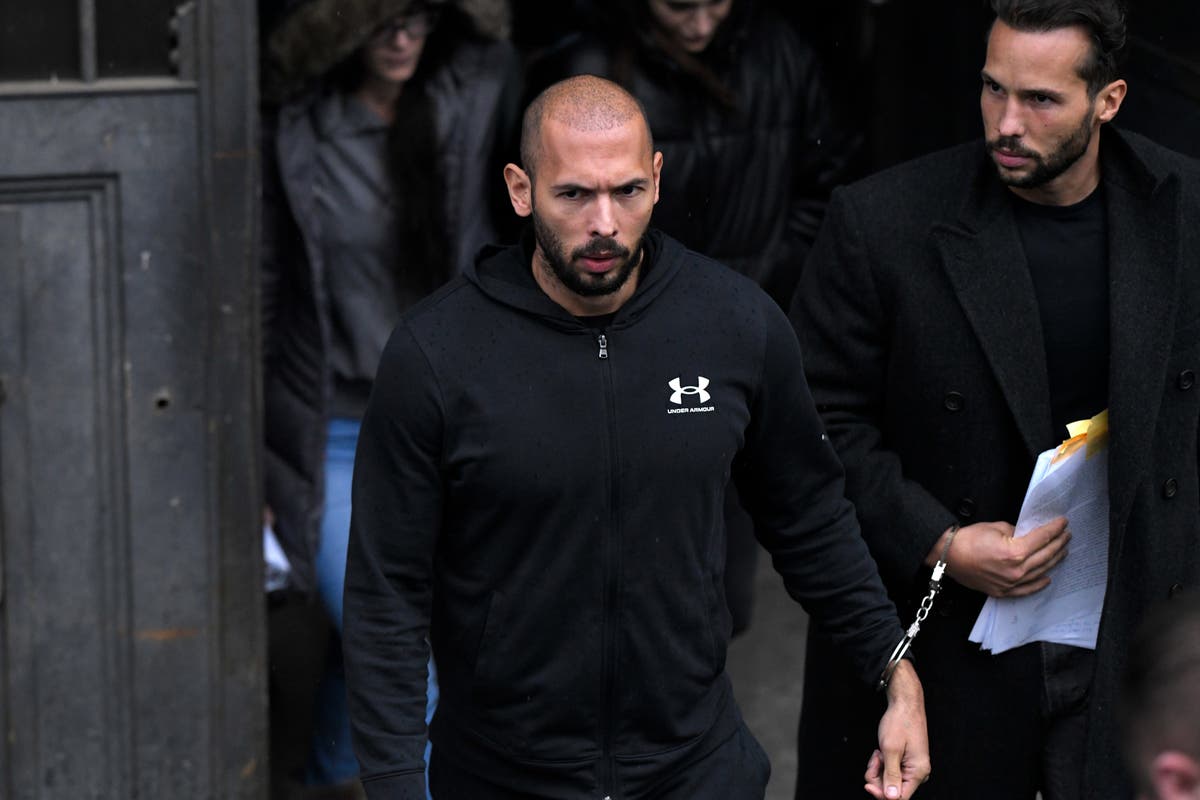 Romanian authorities have seized luxury cars from the complex of influencer Andrew Tate, who remains in custody on rape and human trafficking charges.
Organized crime prosecutors arrested Tate, his brother Tristan and two Romanian women on December 29 on suspicion of forming a gang to sexually abuse six women. They denied any wrongdoing.
On Saturday, several cars, including Rolls-Royce, BMW and Mercedes-Benz, were taken out of the city on the outskirts of the capital, Bucharest, to be transported to a warehouse.
Earlier this week, prosecutors said they had seized 15 luxury vehicles and more than 10 properties and homes belonging to suspects in Bucharest, Prahova and Brasov counties to prevent the sale or concealment of assets.
Tate and his co-defendants arrived at the Bucharest court in handcuffs on Tuesday morning to challenge the 30-day arrest warrant holding them.
But the appeals court in Bucharest rejected the challenge and ruled that they should remain in police custody.
Eugen Vidineac, a Romanian defense lawyer representing the defendants, said after the trial that "all four defendants gave their statements" and "the lawyers' testimonies were fully heard".
After Tate lost his appeal, a cryptic post on his Twitter account read: "When Allah said, 'I only test those I love.' I accepted the pain as if it were an honor – Abu Huraira."
It was one of several ambiguous entries that had appeared on the account since his arrest.
The National Organized Crime and Terrorism Investigation Directorate (DIIOCT) said after the arrests that it had identified six victims who said they had been subjected to "acts of physical violence and psychological coercion" by the group and were sexually abused by members of the group.
The agency said victims were lured with the pretense of love and then intimidated, under surveillance and screened into performing pornographic activities designed to earn significant money for their exploiters.
If prosecutors can prove that Tates obtained the money through human trafficking, the seized assets "will be seized by the state and [will] cover the costs of the investigation and compensation for the victims.
Tate, a former kickboxer and contestant on the reality show Big Brother, gained notoriety for his misogynistic remarks and hate speech.
His remarks saw him banned from all major social media platforms, although his Twitter account became active again in November after Elon Musk took over the platform.
Tate, who holds US and British citizenship, previously said women were partly responsible for rapes and belonged to men.
He has attracted millions of followers on social media and his Twitter account continues to post messages despite being detained.
Additional agency reports