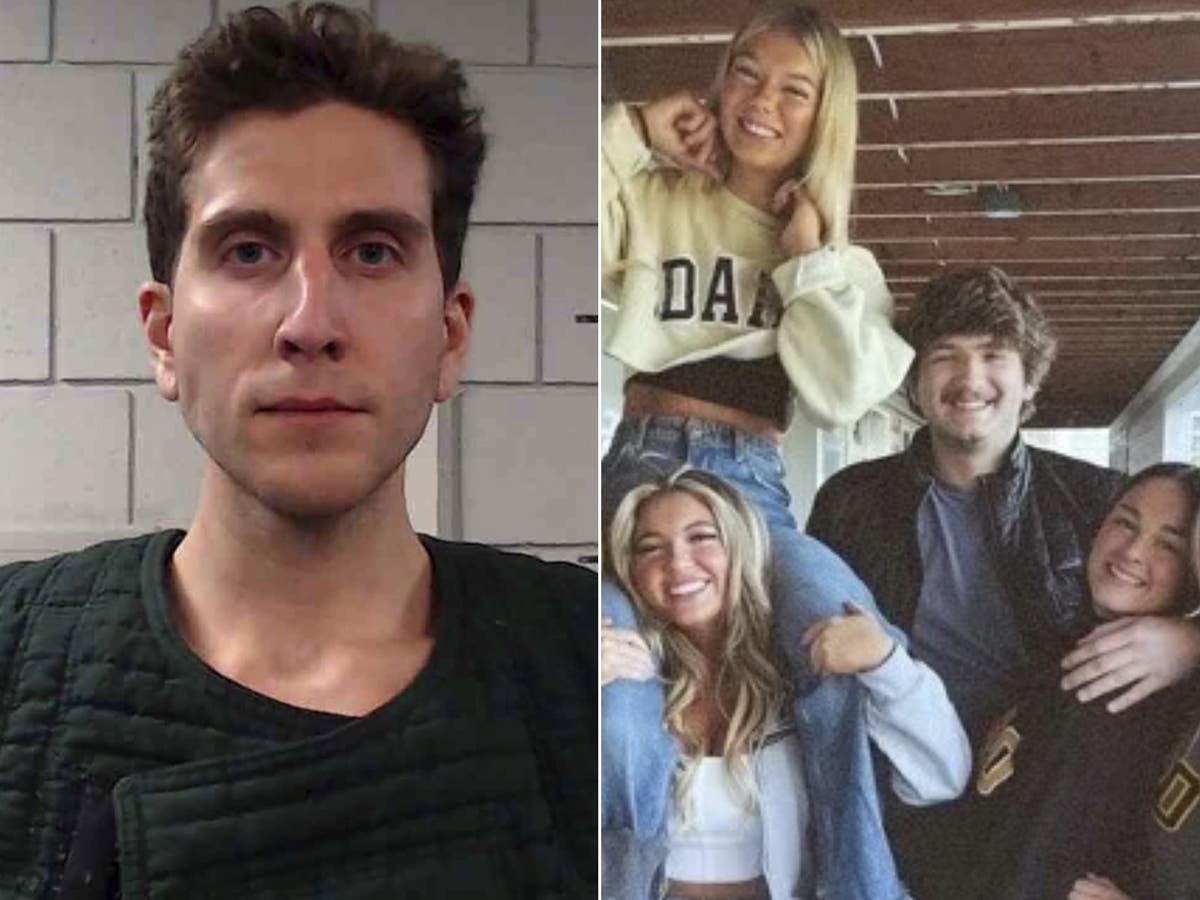 A suspect arrested in the murder of four University of Idaho students had no connection to the victims, a lawyer for one of the bereaved families said.
Kaylee Goncalves, Madison Mogen, Ethan Chapin and Xana Kernodle did not appear to have personally met Washington State University (WSU) criminal justice doctoral student Bryan Kohberger prior to their November 13 killings, the Goncalves family's attorney said Initiate on Monday.
After the attack that shook the university city of Moscow, 28-year-old Kohberger finished a semester at WSU. A few weeks later, he reportedly traveled with his father from his apartment in Pullman, Washington, about nine miles west of the victims' home, to Pennsylvania to spend a vacation with his family.
Law enforcement raided Mr. Kohberger's family home during a surprise arrest on December 30 after weeks of mounting criticism over the poll's lack of updates. Mr. Kohberger was charged with four murders and extradited to Idaho – it was later revealed in a statement of his arrest that police linked him to the crime scene using genealogical DNA.
"No one knew about this guy at all," said attorney Shanon Gray. "According to sworn testimony, he was in the vicinity of the house several times … That's all we know."
The sworn affidavit also states that investigators believe Mr. Kohberger stalked the victims' home at least 12 times prior to the massacre.
Mobile phone records show that his phone rang in the King Road area at least twelve times prior to the murder. The exact dates of these cases have not been disclosed in the records, but all but one occurred in the late evening or early morning.
One incident was identified on August 21, when a suspect was apprehended by police just minutes from the house.
Latah County Sheriff's Office citation obtained by Independentreveals that the stop occurred around 11.40 p.m. at the intersection of West Pullman Road and Farm Road in Moscow.
Files show he was detained for not wearing a seat belt – just a few minutes' drive from the house on King Road where the victims were murdered.
Investigators believe that Mr. Kohberger switched off his mobile phone at the time of the murder to try to avoid detection.
However, mobile phone records place him close to a house on King Road around 9am on November 13 – suggesting he returned to the crime scene just hours after allegedly murdering four victims around 4am.
On Sunday (January 8), Goncalves' sister, Alivea Goncalves, told NewsNation that she was being haunted by a specific revelation.
"We had no idea. She had no idea. I had no idea true evil was really watching them," she said.
Ms Goncalves said it was only after the statement was published that it "struck her" that while she and her sister were exchanging "normal", light-hearted messages with each other, the accused killer was probably planning his next move.
"The hardest part of it was to sit down and look at the whole thing. When my sister was talking to me on Facetim about a new recipe for egg bites, he was planning another visit home," she said.
"It's really hard not to wish you'd done more and not wish you'd known more. But this is only the first step. Much more evidence will emerge."
In addition to the cell phone records, the affidavit reveals other evidence that also led them to arrest Mr. Kohberger for the student murders.
Police said his DNA was found on a knife sheath left at the scene by the killer.
Under oath testimony, a white Hyundai Elantra spotted at the crime scene at the time of the murder has also been identified as a suspect.
Two roommates were also in the dormitory at the time of the murder, but they were unharmed.
Murders in Idaho: County police release footage of Bryan Kohberger's traffic stop
The grim scene went undiscovered for about eight hours after the murders – which police believe took place between 4:00 and 4:25.
It was around noon when a 911 call was finally made to report an unconscious person in the house. The police arrived at the scene of the bloody incident.
Sworn testimony revealed for the first time that one of the surviving roommates came face to face with the masked killer as he left the house after killing her four friends.
Investigators initially said the two survivors were in bedrooms on the first floor – while the victims were found on the second and third floors of the three-story home. Now it turned out that one of the survivors was in her bedroom on the second floor.
In her horrific account for investigators, the roommate, identified in the records as DM, revealed that she heard the killer in the house and heard what sounded like one of her roommates crying.
At one point, she heard a female voice – probably Goncalves or Kernodle – saying something like "someone's here", before she heard a male voice saying "okay, I'll help you".
She then had the good fortune to escape when she opened the door to see what was going on and saw "a figure dressed in black and a mask covering the mouth and nose of a person walking towards her."
The man, who had bushy eyebrows and was about 5ft 10 tall, walked past her and headed for the house's rear sliding glass door while she stood in a "frozen shock phase".
Mr. Kohberger, who faces a life sentence or the death penalty, is due to appear in court on Thursday morning.